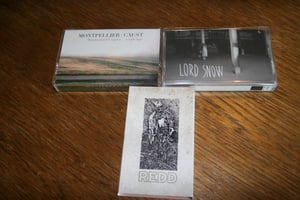 $

5.00
SIST01: *LAST COPY* Montpellier/Caust - split TAPE. It's a great pleasure to be releasing the Montpellier from Maryland and Caust from Virginia. Montpellier play emotional post-hardcore/screamo that can sometimes resemble At The Drive-In or La Dispute. Their side of the split is mixed by Mike York from Pianos Become The Teeth. Caust play screamo, mixing the chaos of bands like Orchid and Pg.99 and the dark melodies of Portraits of Past and Funeral Diner. TWO COPIES LEFT.
SIST02: Choirs - I used to think nothing in life mattered, now I know for sure TAPE. Really awesome screamo/emo from Texas, amazing noodly guitars and yelly/shouty vocals.
SIST03: *SOLD OUT!* Lord Snow - Lord Snow TAPE. Lord Snow from Chicago features members from Suffix, Raw Nerve, Lautrec and The New Yorker. Lord Snow sounds just as awesome as you'd think a band with members from all of those bands would sound like. This is their first recording, and it sounds really rough, but rough in that good way - it's super passionate and intelligent screamo - six quick and energetic songs played without any fuss. Pure and simple great suff!
SIST04: REDD - EP TAPE. REDD is a band from Oslo who play really dirty, dark and crusty hardcore punk, but with some amazing melodies that sometimes flirt with both post-metal and sludge. This is a fantastic 20 minute recording put out on 100 orange pro-dubbed tapes, all comes hand numbered and with a download link.
SIST06: Oswald - Demo TAPE. Really great New Jersey emo poppers. Sounds like a 90s punk band with some shouty emo vocals and noodly guitars thrown in the mix.
SIST07: *SOLD OUT!* iampsyencefiction - Don't Stall TAPE. Under the name iampsyencefiction, Aleksander Johansen make beautiful, brooding and etheric melodies. He's got a real strong sense for writing good melodies, and the production sounds amazing. Oh, and his voice has some serious pathos! For fans of Sixteen Horsepower, Sun Kil Moon, Red House Painters or anything Mark Kozelek! ONE COPY LEFT.
SIST08: *LAST COPY* Wits End - 2010-2012 Discography TAPE. 46 minutes of glorious and frentic mid90s emotional hardcore presented by one of the finest bands in Norway. This tape documents every release this band has done over the last two years, 7"s, splits and even a previously unreleased session featuring cover versions of bands like Catena Collapse and The Trees Are Spies. 100 pro-dubbed cassettes, all comes with a download code of the entire release.
SIST10: Brent Barn - Discography TAPE. Brent Barn was a band that existed prior to Wits End forming, and it featured members from past and present bands such as The Birds Are Spies, They Report To The Trees, Catena Collapse, Wolves Like Us and Dumhetens Hær. This posthumous discography tape is availabe for the first time ever on tape right here.
SIST11: Mountain Cloth - s/t TAPE. Mountain Cloth is a mysterious gang from Bergen playing weirdo lofi with beautiful warped pop sensibility.
SIST14: Hysj - Pylon TAPE. Noisy duo. For fans of: Jazkamer, KILLL, glitch metal, crunching sounds and other abrasive music.
-----VINYL RELEASES:-----
(***DISCLAIMER: I know that the shipping on this is horrible. Norway has the most expensive shipping costs in the world (according to BBC), so I'm not trying to rip you off. On the positive side, if you order this, you can add pretty much as many tapes as you want, and shipping will still be the same. I can add up to 1 KG in the shipment, and shipping will stay the same***)
SIST13: Gaspard - Gaspard 7". New wave punk pop from Oslo.
SIST05: Youth Pictures of Florence Henderson - Small Changes We Hardly Notice 10"
I'm SO excited to be a part of releasing Norway's best emo band, Youth Pictures of Florence Henderson's vinyl debut. "Small Changes We Hardly Notice" is a stunning work that displays master musicianship. 4 songs that span an entire 10" record painting a dreamy atmosphere that will paint the listener in a world they will never want to leave.
To make this even more special, it's in fact a co-release with my favorite record label Count Your Lucky Stars.
Comes with Download Code, available on Black and Electric Blue.
First Pressing: 150 Black/350 Electric Blue
Track Listing:
1. All I Remember is Punk Rock
2. Hearts & Consequence
3. But Now You Know
4. Swim Team Philosopher
(PS: If your country is not listen, just shoot me an email, and we'll work it out!)
(PS: the shipping calculator might be a bit off, it is kind of tricky figuring out, but I will refund any rate that is too high after shipment, no doubt!)
(PS2: if you live in Norway, please send me an email (sistesukk [at] gmail.com) with your order, and I'll get back to you with details)